In Memory
James Schultheis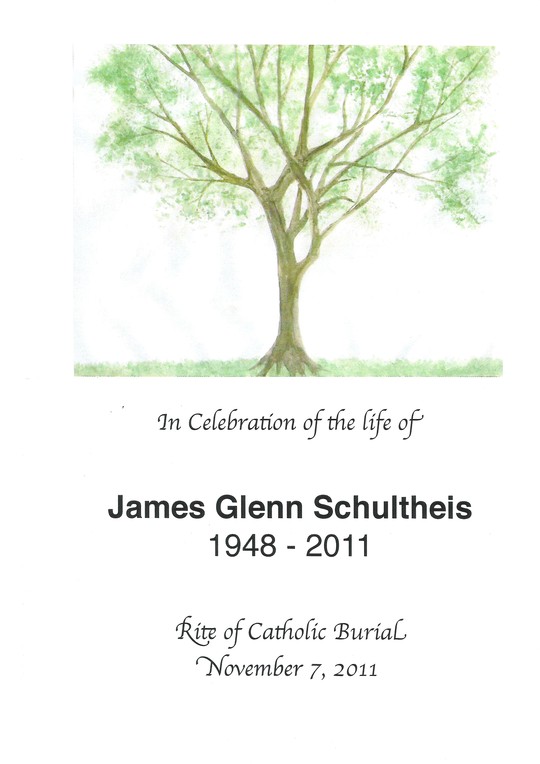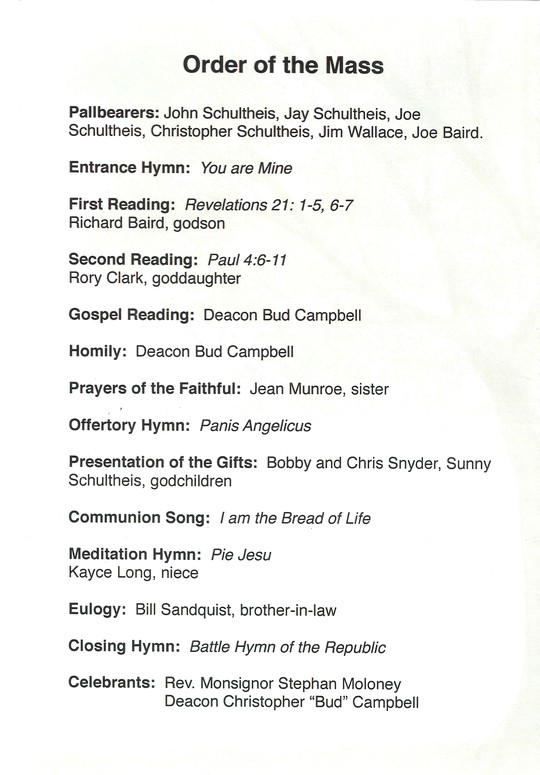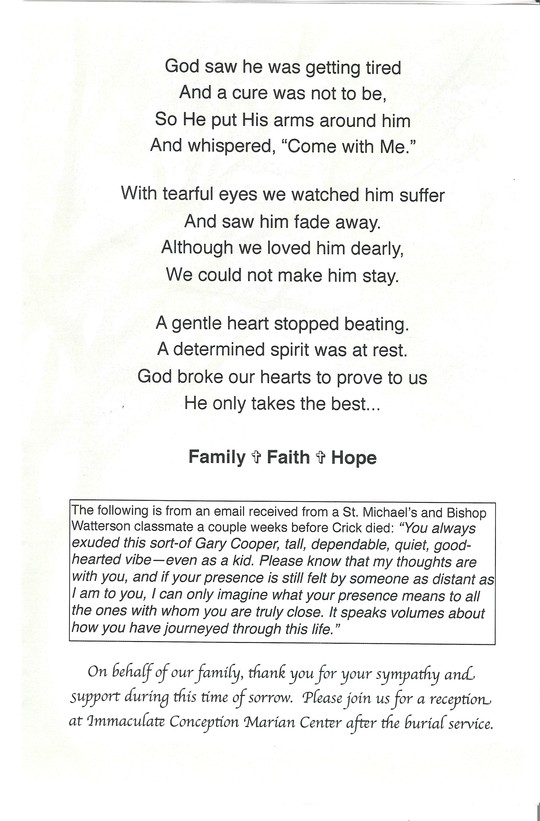 Jim passed away from small cell lung cancer.
James Glenn Schultheis
SCHULTHEIS James Glenn "Crick" Schultheis, age 63, died Wednesday, November 2, 2011, at his residence. Retired, U.S.
Army
National Guard and Dublin City Schools. Member of Immaculate Conception Catholic Church. Preceded in death by his parents John and Rita and brother Dan. Survived by loving wife of 41 years, Mary Margaret; daughters, Jennifer (Jim) Wallace, Megan and Stephanie (Joe) Baird; son, Chris (Jessica); grandchildren, Olivia, Sam, Natalie, Luke, Tommy, Mayce, Sophia, Sydney and Josh; brothers, John (Joni), Joe (Judy) and Jay (Rayne); sisters, Jean (Bob) Munroe, Jane Baird, Judy (Bill) Sandquist, Joy (Bob) Snyder and Peggy (Mark) Fulmer; many special brothers-in-law and sisters-in-law; nieces and nephews. His cheerful, caring, compassionate, optimistic personality impacted everyone he met, but especially children, who were most dear to his heart. His life was a shining example of living out God's commandment to love thy neighbor. Friends may call at SOUTHWICK-GOOD & FORTKAMP FUNERAL CHAPEL, 3100 N. High St., Saturday 6-8 p.m. and Sunday 2-4 and 6-8 p.m. (prayer service 8 p.m.). Mass of Christian Burial Monday 10:15 a.m. at Immaculate Conception Catholic Church, 414 E. North Broadway. Msgr. Stephan Moloney, Celebrant. Interment Resurrection Cemetery. In lieu of flowers, contributions if desired may be made to St Jude's Children's Hospital, Code IIQ040799001, 501 St. Jude Place, Memphis, TN 38105.
www.southwickfuneral.com
Mary  Margaret posted this on the Caring Bridge site back in January and Crick's 
brother-in-law read it today at the funeral. It is a letter MM wrote to her 
father-in-law over 20 years ago:

January 3, 1990

Dear Dad,

As Crick's birthday approaches, I'd like to take this opportunity to thank you 
for this "gift" which you helped bring into the world.  I'm sure you must know 
what special people all of your children are, but Crick is obviously the one 
about whom I have the most intimate knowledge as he has been a part of my life 
for nearly 24 years.
His childhood experiences, of which you were certainly a most prominent figure, 
did much to mold him into the sensitivie, caring, compassionate, selfless, hard 
working, optimistic, cheerful person he has become.  When I think back over the 
years I've known him, he has really changed very little.  He still finds the 
greatest pleasure in the simple things life has to offer - watching the stars on 
a clear summer evening, taking a walk after a winter snowfall, holding a baby, 
or comforting an injured child.  As always, he continues to work hard at 
whatever job, no matter how tiring, or how dirty or how menial or how time 
consuming, if it means providing his family with a little of life's extras.  I 
know this work ethic was greatly inspired by the example you have set.
I remember one holiday season, he worked his regular job during the day & then 
drove an express freight truck to Detroit & back every night in order to earn 
extra money for Christmas gifts.  He often sacrificed his vacation days to work 
at Jay's or Dan's in order to supplement our income.  Throughout all of his job 
changes, he has never given up or let up - he's always given 100% to whatever 
job he's undertaken.  I really don't feel he's ever been motivated to achieve 
merely to gain something for himself as he has always put others needs & 
feelings ahead of his own.
Countless are the times when he would finally have some time for himself, only 
to receive a call from a neighbor, friend or relative (usually mine) needing 
some kind of assistance with a car problem or broken appliance & off he would go 
regardless of how tired he might have been.  I remember the time there was a car 
wreck just up the street from our house & Crick had to revive the driver who had 
stopped breathing.  He then followed up on the person's progress as she 
recovered in the hospital.  Many are the times he would leave at a moments 
notice when my brother Jimmy would call needing a ride somewhere or maybe just 
some company.  There was the night Jimmy came for dinner & had a seizure just 
after Crick came home from work.  While I was busy being totally useless, Crick 
remained calm & reassuring, taking as good of care of Jimmy as any medic would 
have done.  I recall how loving, gentle & compassionate he was with Nanny - 
bringing her often to our house to visit, tending to her needs & visiting her at 
the convalescent home whenever she was unable to leave.
He has been a pheresis donor for the Red Cross for over 8 years  - a 2 hour 
process in which he gives his platelets so that a seriously ill person can keep 
on fighting.  The calls have come on Sunday mornings or as late as 9 PM & yet he 
can never refuse.  He has earned the respect & admiration not only of my family, 
but of his National Guard associates, parents of the kids he has coached & those 
who know him through the church & school, through his enthusiastic, affectionate 
& generous personality.
He isn't perfect - he still smokes (after numerous efforts to stop), he forgets 
to return things he borrows, he wakes up sleeping babies, he leaves his tools 
everywhere & he has difficulty expressing his innermost feelings, but he is a 
shining example of living out God's commandment to "love thy neighbor".  His 
love is & always has been an unconditional kind of love - he gives & gives & 
gives without ever asking anything in return.
I didn't write this as eloquently as it would deserve, but I thought perhaps it 
was a proper way to celebrate his birthday - to share with you how I & others 
have been touched by this life you brought into this world on this day 42 years 
ago.  Thank you.

With love,
Mary Margaret