Class Showcase
Cookie Recipes from 55+1 Reunion
from Lyn Zelinski Rapp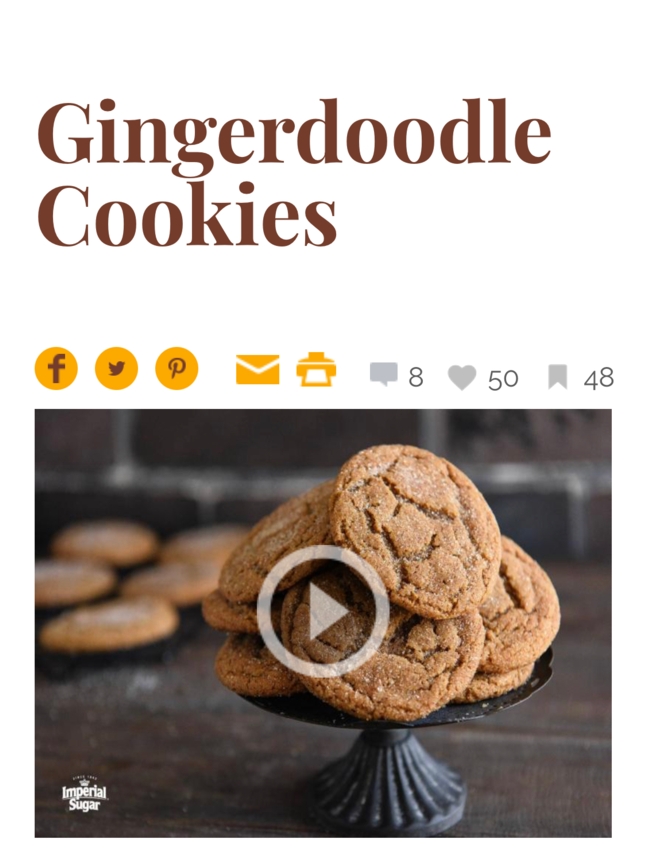 INGREDIENTS
2 cups and 2 tablespoons all-purpose flour*
1 tablespoon cornstarch
2 teaspoons baking soda
2 teaspoons cinnamon, divided
1/2 teaspoon salt
1 teaspoon ginger
1/4 teaspoon cloves
1/8 teaspoon nutmeg
3/4 cup (1.5 sticks) butter, softened
3/4 cup Imperial Sugar Light Brown Sugar
1/2 cup, divided Imperial Sugar Extra Fine Granulated Sugar
1/4 cup molasses
1 large egg
2 teaspoons vanilla extract
*Spoon & Sweep method: Use a spoon to fill measuring cup with flour until required amount is obtained. Scooping measuring cup directly into flour bag will firmly pack flour resulting in too much flour required for recipe.
DIRECTIONS
Preheat oven to 350°F and line two cookie sheets with a silicone mat or parchment paper. Set aside.
In a medium-sized bowl, whisk together flour, cornstarch, baking soda, one teaspoon cinnamon, salt, ginger, cloves, and nutmeg. Set aside.
In a small bowl, combine 1/4 cup granulated sugar and remaining one teaspoon cinnamon. Set aside.
In a stand mixer, cream together butter, brown sugar, and remaining 1/4 cup granulated sugar until light and fluffy. Add molasses, egg and vanilla extract, mixing until well combined. Slowly add dry ingredients to wet ingredients, and mix until fully combined.
Roll one heaping tablespoon of dough into balls and toss in cinnamon sugar mixture. Place on cookie sheets, leaving about 2-inches for spreading.
Bake for 10 minutes, until edges are just set. While warm and just out of the oven, sprinkle tops of cookies with any remaining cinnamon sugar mixture.
Store in an airtight container for up to a week.
NO BAKE PECAN COCONUT PRALINE COOKIES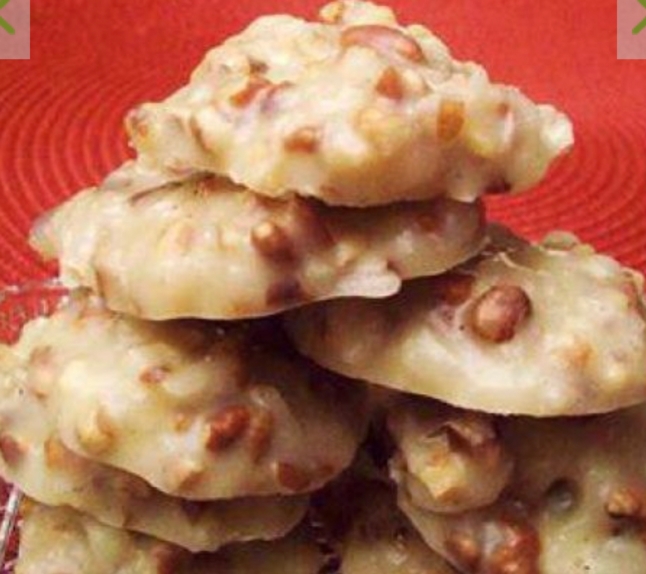 INGREDIENTS
2 1/2 cups sugar
1/2 cup evaporated milk
1/2 cup corn syrup
1/2 cup butter
1 teaspoon vanilla
2-2 1/2 cups chopped pecans
2 1/2 cups grated coconut
DETAILS
Preparation time 10mins
Cooking time 30mins
STEP 1
Set pecans, coconut, and vanilla off to the side.

Mix sugar, evaporated milk, corn syrup, and butter in large saucepan. Bring to a rolling boil & boil for 3 minutes.

Remove from heat & add pecans, coconut, and vanilla. Stir for about 4 minutes.

Take a spoonful of batter and place on wax paper. Let it sit until batter has
hardened.

Remove from paper and enjoy.
Chapter 1
Where to go – 1942
She was nineteen and sick to death of laundry, sick to death of the smell of dirty clothes, and even sick of the smell of clean wet clothes with their odor of harsh detergent. She was tired of the cracked skin of her fingers, and of her mother's overbearing and demanding presence. She was tired of the long hours that helped out the family financially, but did not really bring in much money. She was angry about needing to leave high school, and did her best to educate herself by reading during her limited spare time. There was never enough time for textbooks or academic pursuits, but her Mother did like getting the daily newspaper, and an occasional Life Magazine, so Verna devoured those, and of course she never missed FDR's fireside chats on the radio. She was well aware that a lot was happening in the world – historic, world-upending events. But then one day, she decided she could not face another tub of laundry. She had to leave.
But to go where? To do what? Her Mother and six younger siblings depended on her. Her Father had wandered off with a promise of finding work four years earlier, but was never heard from again. So it had just been her Mother and herself to keep the family functioning. But now, she told herself the older siblings were old enough. They could pick up the slack of her absence. And unlike her Father, she would not be abandoning them. She would find a decent paying job, one that would allow her to send money home. That ruled out joining the military. The pay would not be enough. But Verna did not need the military. She knew there was most definitely a place for her to go, a place bursting with jobs for unskilled workers, even unskilled female workers like herself. She had read about it in the newspapers, and it was not even very far – a mere three or four hour bus ride from her home in Marion, Ohio. She had made up her mind. She would go. And if it did not work out? Well, she would not be that far away. She could always return home, assuming her Mother's fury would have subsided by then and allow her back. So that was that. It was settled. She would leave tomorrow – for Detroit.
The rise of the automobile industry in the teens, twenties, and thirties had made Detroit the epicenter of industrial might. There was nothing related to machinery they could not build, and build efficiently. But now Detroit was being asked to reshape its goals. It was no longer going to be making cars for a consumer market, it was now being asked to launch the most enormous production of military might the world had ever seen. Factories across the country turned to the war effort, but nothing compared to the output of the car manufactures in Detroit. The Ford Motor Co. promised the completion of a B-24 bomber every hour, and this was even before building a new mile-long plant, and hiring the additional 35,000 workers needed to accomplish this staggering goal. But it was not the Ford Co. alone, of course. All of Detroit was humming with activity. There was no end of things needing to be built. Besides aircraft, there were tanks, jeeps, radar equipment, anti-aircraft guns, billions of bullets, the list was endless. Along with Ford, there was also GM, Chrysler, Hudson, Packard and every sub-vending manufacturer in the supply chain focused on the new assignment.
And just as Detroit had surged in population during the birth of the auto boom earlier, now it would see an even greater influx of people desperate for work. They would come from everywhere – from all points in the country, some even from overseas. It reminded some pundits of the way San Francisco was overrun by gold-fevered adventurers a hundred years earlier. But unlike that migration, where most passed through San Francisco to spread out into the vast gold and silver fields of California and Nevada, this time the migration came to stay in one place. Huge numbers came from the rural South, both negro and white – negroes, tired of the Jim Crow South and the hard-scrabble existence inherent in share-cropping, and poor whites just as tired of their own similarly forlorn, depression-era existence. Both heeded the flyers that promised there were jobs, and lots of them, to be had in Detroit. Of the approximate 500,000 migrants who arrived in the early 1940's, it is thought at least 35,000, maybe as many as 50,000 were Southern negroes.
And, of course, there was also one nineteen year-old white girl from Marion, Ohio.
A year before Verna arrived in Detroit, the first seething bubbles of the city's racial cauldron came to the surface. Jobs might be plentiful, but they were not inexhaustible. Worse, besides providing jobs for all of these new arrivals, there was an equally serious problem, namely, where were all these people going to live? And worst of all, this was a very segregated city, so where were all of these colored people going to live?
The Federal government actually had been thinking about this, and developed a plan to build a 200 unit housing project for negro war-workers that might relieve some of the overcrowding being inflicted on Detroit. Although in hindsight, it seems unlikely they were going to squeeze 35,000 people into 200 units. Nevertheless in 1941, that was the only plan on the books, and they named the proposed site The Sojourner Truth Housing Project. Ground was broken at Fenelon and Nevada Streets, an area bordering white neighborhoods. At first the neighbors were ecstatic to learn that much needed additional housing was going up, that is, until they heard the name.
"Sojourner Truth? Hell's fire, we can figure out the truth in what that means!" was the reaction. Such an overwhelming outpouring of hostility to the project occurred that the officials had to back down. They announced that they would find another location for the Sojourner Truth project, and that this one at Fenelon and Nevada Streets would be for whites. However, as completion neared, it became clear that there were no other locations to be found in Detroit that would not raise the same howl from its white neighbors. The Government then reversed its decision and re-announced that the project being completed at Fenelon and Nevada Streets would indeed be The Sojourner Truth Housing Project, and it would indeed be for negro residents. The surrounding area exploded in fury. A call to arms went out. Posters were seen all throughout Detroit decrying the decision. One of them read:
Help the White
People
Keep This District White
Men Needed
To Keep our Lines Solid
Come to Nevada and Fenelon
Sunday and Monday
We Need Help
Don't Be Yellow – Come Out
We need Every WHITE MAN
WE WANT OUR GIRLS TO WALK ON THE STREET – NOT RAPED
This particular poster was on the wall of the Detroit bus station, and greeted Verna, upon her arrival in March, 1942, as she was making her way out to the street. She was more than a little taken aback.
Growing up in her small Ohio town, she had had little or no contact with colored people. To her, this sounded ominous indeed. Need she fear walking the streets?
Then she saw another poster that seemed to take the exact opposite point of view. It read:
Detroit - Win The War
Factory hands Office workers Housewives
AFL-CIO leaders Business men Club women
Church Leaders Young people Thousands strong
ALL DETROIT WILL TELL THE MAYOR!
Take the offensive Win the war
against the Klan and Hitlerism
House Negro war workers in
Sojouner Truth Homes AT ONCE !
Come to the City Hall
Friday, March 13
at 4:00 P.M.
ALL OUT FOR VICTORY
She had come in hopes of finding a job in the war effort to defeat Hirohito and Hitler, and this almost sounded as if there might be a different kind of war right here in the streets of Detroit. Were people actually about to come to blows over housing issues? And what about her? She too had to find a place to stay. If the shortages were that severe, what were her chances of finding a place? Of course she was a single person and did not need much. She could, she thought optimistically, even share a small space, if it came to that. She was young, and perhaps a bit on the too-thin side, but had skin that radiated good health, and teeth that, despite never having been to a dentist, lit up a smile that immediately enchanted any person lucky enough to be in her presence. She was confident she could smile and sweet-talk her way into finding a room somewhere. But she was far from smiling that day as she looked back and forth between these two warring posters.
People hurried past her, a bit annoyed that she and her suitcase were blocking the pedestrian flow leaving the bus station, when suddenly she felt the creepy sensation of an unwelcome presence standing too close to her. This person was not attempting to move quickly by her as were the others, but rather, he was not moving at all. He just stood motionless, a mere inch from touching her back. Then she felt a man's face lean in, over her shoulder, as if he were also reading the "We don't want our girls raped" poster. Startled, Verna jumped forward, away from him, and then turned to face this overweight white man in his fifties, who was wearing a severely tattered overcoat and leering peculiarly at her. Then she heard him say, "That's right, missy. We don't want no niggers in your knickers, now do we?"
She certainly did not grace him with her signature, high-wattage smile, but instead, pulled herself up with an indignant, "I beg your pardon?"
Seeing that he had misread her as someone who might appreciate his advice, he just snorted, and shambled away.

MARK SCHWEICKART
July 22, 2018
Mark, our class songwriter, has shared some of his compositions with us on the message forum and I thought I'd add them on the Class showcase so they would be easier to locate going forward. These are quite thought provoking. I have included his notes before each link.
"I shared this next song below with Donna awhile back, since she is our resident expert on Spain, and had herself lived for a time under the Franco repression. As I recall, she seemd to like it. Its focus is the murder of the poet Frederico Garcia Lorca at the start of the Spinish Civil War, and the subsequent emotional toll on the country from living under 40 years of Franco. It is written from the point of view of someone reflecting on things during that last year of Franco's rule. Yesterday I went looking for some still images to enhance it, and had a similar problem as with the Another Yankee Soldier song-- that is, wanting to keep the audience focused on what is being said in the song, and not overload it with random images of the Spanish Civil War and its aftermath. The downside is that one may feel bored holding on an image for 20 or 30 seconds when we are more used to 5 or 10 seconds at most. But holding longer I think forces one to listen more, and since I am more interested in the song's message, I took this approach.
"Here's a note that goes with the song:
"It's been over 150 years since the Civil War, but some things just don't go away. I found myself thinking about what it might have been like to have been an ordinary soldier, wondering what his point of view may have been, and how to express it in a song. I took the melody and chorus from John Brown's Body which had been a marching song for Union soldiers before it morphed into The Battle Hymn of the Republic, and which then later transitioned into the labor union anthem Solidarity Forever, and, since then, into a thousand school-yard parodies. So I figured one more variation couldn't hurt. I used the original lyrics from the marching song for the chorus, and added verses to express what a lonely foot soldier from the North might have been feeling as he passed by a lovely Southern girl on his march deeper and deeper into the South."
"This song began with the idea of questioning the concept that we are all standing on the shoulders of giants who have preceded us. But as the song unfolded, and the RFK section kicked in, it shifted to the conclusion that this is indeed true, especially with him. "
LARRY FOSTER
May 23, 2017
With Memorial Day approaching I thought it would be nice to showcase the art exhibit Larry Foster currently has at Starbucks in Eastgate in Cincinnati. Many of you are out of town and will not be able to come see it. The theme is America and Memorial Day, which is May 29th this year.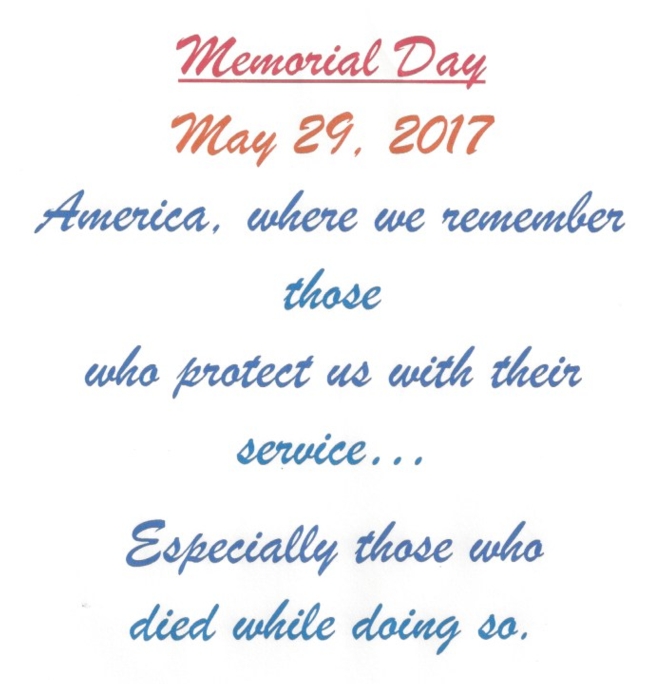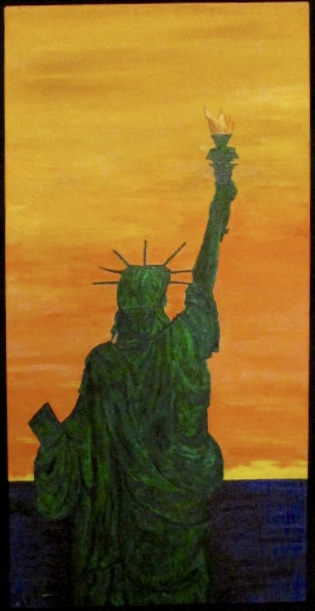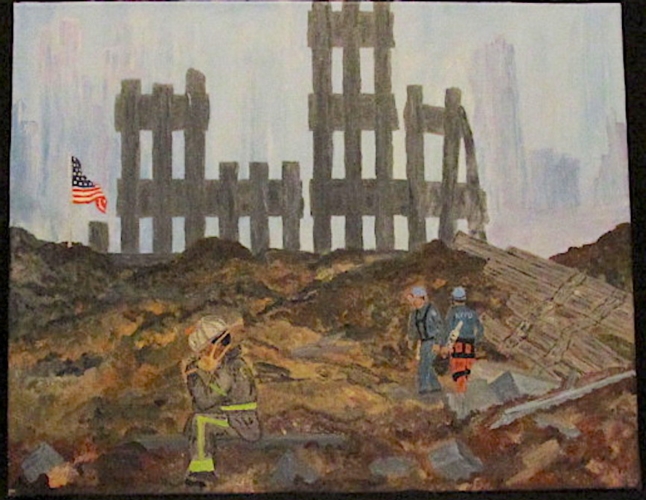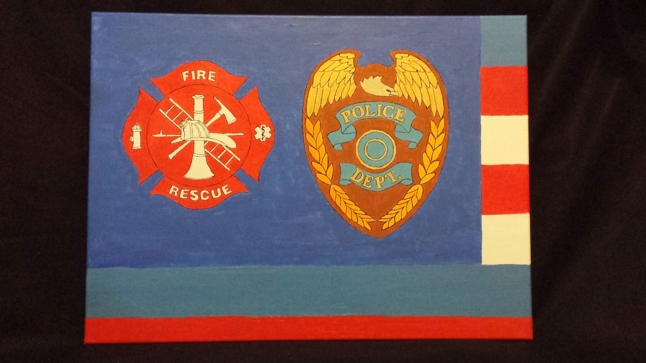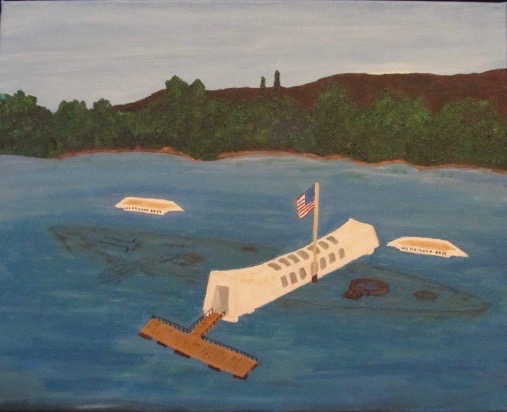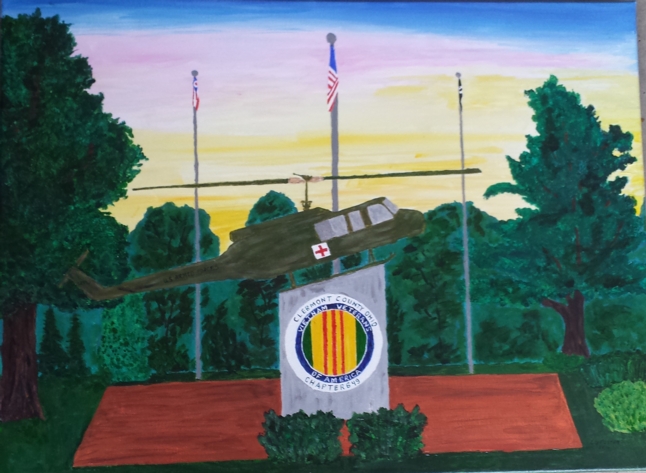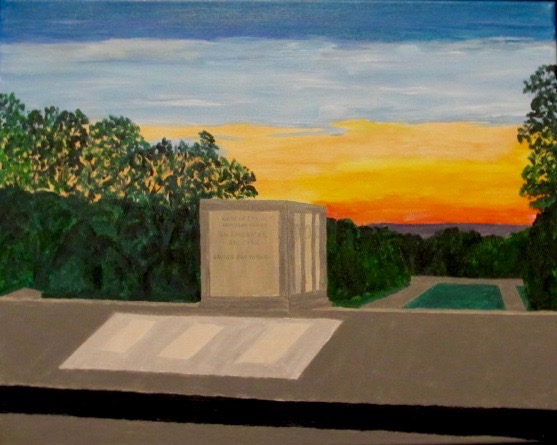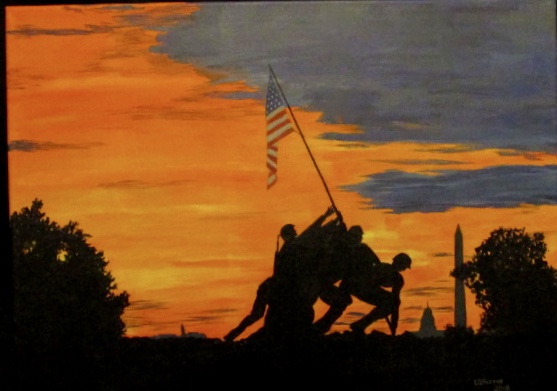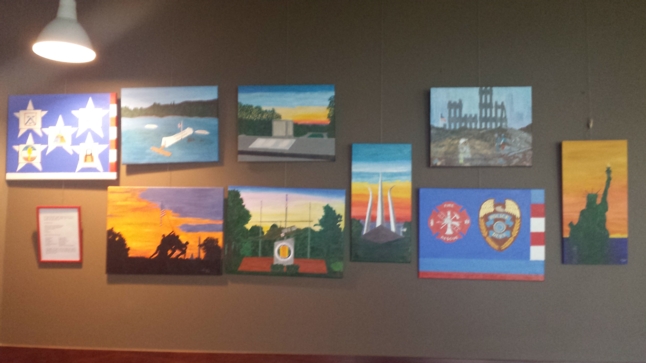 August 15, 2016
Larry Foster, in addition to painting, is now writing short stories. This is one from a writing workshop he took. The instructor gave an assignment to write a short story about "Unknown caller – who is it and what do they want?". This is what Larry wrote. Thought we all could relate!
Ring…Ring…
As the house phone began to ring the caller ID came up on the TV screen and showed that it was "unavailable." Typical. And I usually ignore these kind of calls but this time something just snapped in me. "This is just crazy," I thought to myself. And on that note, that idea of it, being crazy, I answered the call.
"Hello, Hello," I said sounding like I was out of breath. "Jack I am so glad you finally called. You got my note."
"Good morning sir, this is Mike at Online Purchases regarding your recent purchase."
"Look Matt or Mike or whomever you are, this is my wife's phone. She visiting today and left it here in the room while she stepped out. I got to talk quickly."
"Umm, Sir, I..."
"No don't interrupt me. Just take notes and be ready. They usually bring me dinner around 5:30 or 6 in the evening. At least they say it is evening. With no windows in the room I can't be sure. Anyway just wear a white uniform and come back to the center hallway rooms. With the doors being opened at dinner time you can get in and help me get out of this place and away from all the damn needles they are sticking in me and electrodes they put on my head."
"Sir, I am calling about credit card purchasing for you and we need…"
"Oh screw a credit card! When you get me out of here I can show you where the diamonds are and then we are talking billions and credit card purchases won't mean diddly-squat. We can avoid the agents from Spectre and start our own internet using our own satellites in orbit."
"Sir, I am not sure I can continue this, I am going to hang up…"
"No! No! No! Don't hang up. I'm sorry I… Wait someone's coming. Just get here at dinner time. I am depending on you buddy."
"Okay Sir, but good bye for right now."
And as the line went dead my wife walked into the room. "Were you talking to someone on the phone just now?"
"Yeah it was some sort or sales pitch or scam but they hung on me. Must have thought I was crazy or something because they didn't seem to like the answers I gave them. I doubt they will be calling back," I responded with a smile and a wink.
June 2, 2016
We will soon be celebrating the 50th anniversary of our graduation from Bishop Watterson High School. Today (2 June 2016) the Air Force Academy held their graduation which takes place just a few miles north of our house. It is always an exciting event as the Air Force Thunderbirds put on a spectacular show at the end of the ceremonies. These planes fly right over our deck and each year I try to photograph them as they pass within about 300 feet above our roof. The best shots are often during the practice sessions and this year they had two days of beautiful weather for practice.

You may have heard that on graduation day one of the planes crashed on approach to its landing at Peterson AFB in the southern part of the city. The pilot did a fantastic job of guiding the F-16 into an open field and ejecting safely just before the plane skidded along the grassy meadow essentially intact. These young AF officers are certainly some of America's best! He carefully maneuvered his aircraft so as to avoid populated areas.

I have included two pictures of the Thunderbirds that I made during their practice runs.

Colorado Springs is home to several military installations both Air Force and Army. We even have a small Naval Reserve station (sixty million years ago Colorado was at the bottom of an ocean)!

Memorial Day has just passed and I think that all veterans deserve our gratitude for their service - and that includes many of our classmates!

Jim Hamilton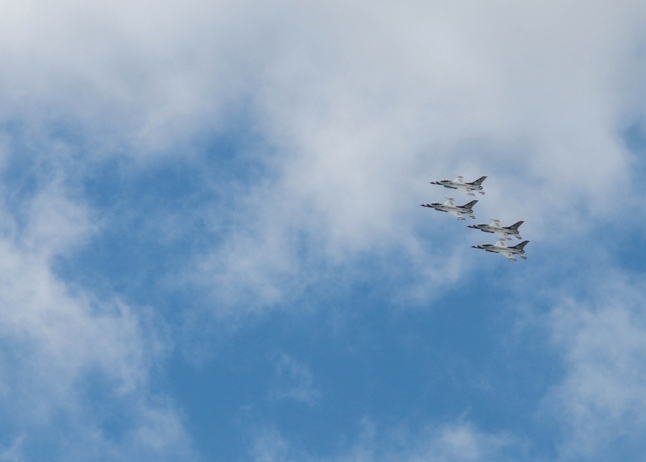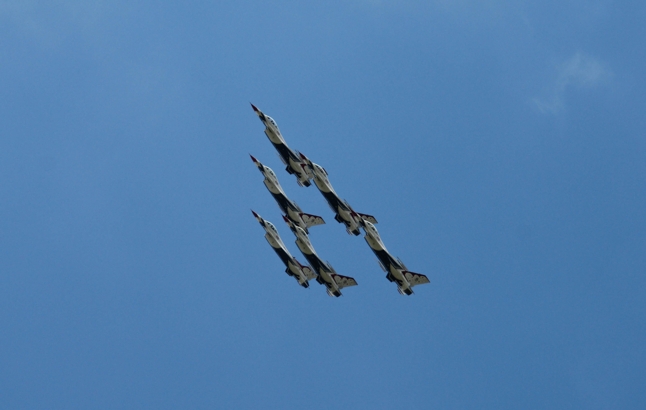 As an addendum:
It is also being reported that one of the Blue Angels also crashed in Tennessee; definitely a sad day for our military heroes.
April 2, 2016
Mark Schweickart
Mark Schweickart has written a book and has sent us this excerpt that is appropriate for our high school memories page but a little too long so we are posting here in the Class Showcase. I am ordering his book for my Kindle right now. Great writing, Mark!
I wrote a self-published book (available on Kindle, hint, hint) that is a lightly fictionalized memoir of my life up to age 18, so obviously some of it deals with our times at Watterson. The following is an excerpt that begins with myself (although since it is written in the third person, I am referred to as "Mark") lying in my dorm room during freshman year in college as my mind drifts back to an event the previous senior year at Watterson. Earlier in the memoir we learned that my roommate, Eddie, constantly referred to everyone he deemed to be dubious as being "douche bags," which was an expression I was not very familiar with at the time. Oh, and two of the priest's names were changed to "O'Leary" and "Arturo" since I was being a bit overly-critical of them, but you may recognize them anyway.I left Monsignor Spires' and Father Van Horn's names unchanged.
(Excerpt from The Hat Fluffers of Buckingham Palace by Mark Schweickart)
One morning, Mark was lying on his bed, still not quite awake yet, looking at the Playboy centerfold he had taped to the side of his dresser at the foot of his bed. "My God, that girl is gorgeous," he thought, "why would someone have done that to her?" What someone had done was to blacken out two of her teeth, which more than a little ruined the overall effect of what had been, in Mark's opinion, a perfect depiction of female scrumptiousness. Fortunately, there was still plenty to enjoy, so he left it up, but it no longer projected the fantasized perfection it previously had. He knew this was not Eddie's doing, he had been even more outraged than Mark, yelling and carrying on about douche bags with marking pens. Mark got the sense that Eddie felt more upset about the fact that someone had violated their space. "This was their dorm room dammit," he had yelled, whereas Mark had felt more affronted by the fact that some jerk had no respect for beauty.
As he lay there, this Playboy image caused his mind to drift back to last year's Religion class, where for his final high school writing assignment, he decided to boldly challenge the Catholic Church's attitude about sexual matters. He brought this idea up to a classmate of his, Ron, because Ron had a physical maturity about him that no one else in his class had. He looked more like he was 25 than 17, and though not one to brag, gave Mark the impression that if there was anyone getting laid among his classmates, it was Ron--and probably not with any of the girls in this high school, he felt pretty sure of that. Ron told him he had read some interesting essays by Hugh Hefner in Playboy where Hefner laid out his philosophy, and had some rather informative things to say about the history of sexual attitudes down through the ages. Ron suggested that maybe Mark should use these to bolster the argument in the paper he was going to write. Mark thought this was a terrific idea, but wondered how he would go about getting these articles. It was not likely he was going to find Playboy magazines in the library. Ron, said, he had them at his house, and Mark could borrow them if he wanted. He jumped at the chance, and so accompanied Ron to his house after school that day. He was a little shocked when, in Ron's bedroom, Ron slid out a lower drawer of his dresser, and there were two large stacks of Playboy magazines. He was about to ask the obvious questions of, "Aren't you concerned that your mother would come across these? Wouldn't she either be embarrassed herself or angry and disappointed in you?" Then it suddenly occurred to him that his mother too must have been aware of her son's maturity and perhaps felt it was no longer her prerogative to question her (sort-of) 25 year-old son's behavior. Ron handed over five or six that he said had the essays he was referring to. Mark thanked him profusely and headed off with his illicit cache, excited to begin delving into the mysteries therein. He had been aware of the old joke about how men justified buying Playboy magazines because they wanted to read the articles, and here he was-- actually going to do just that, read the articles. Although no doubt he would take a break from his research from time to time to peruse sections of the magazine that did not require any reading skills.
Mark knew he was heading off into dangerous territory. It was one thing to have come to personal conclusions about rejecting the teachings of the Catholic Church, but it was quite another to put your ideas down on paper that would no doubt send the Father Van Horne scurrying to the principal, Monsignor Spires. Mark could just see himself being dragged before the Grand Inquisitor as the heretic pyres flamed in the background. No doubt his parents would have to be informed as well, so it was with considerable trepidation that he embarked on this project.
Nonetheless, he remained undeterred, and launched into his analysis making his arguments about the difference between the teachings of Christ and the admonitions of St.Paul, all of which he plagiarized heavily from Mr. Hefner, but felt justified in not providing footnotes because his arguments would be dismissed out of hand if the source for all his early Church scholarship turned out to be Playboy magazine. Mark reminded the reader that Jesus hung out with prostitutes and that in the Gospels as recorded by Matthew, Mark, Luke and John, Jesus never really had much to say about sexual matters. It was cranky old St. Paul, who felt the need to beat down the natural urge to partake of sexual delight. Paul argued that the ideal state was to remain celibate, but for those who could not make this commitment, they needed to restrict their sexual activity to the confines of marriage. Basically Mark's argument was to ask,"Who put St. Paul in charge?" He was just one of many early Church fathers. Why should one person's decidedly restrictive view of sexuality come to dominate all of our lives? What would a good old-fashioned hooker like Mary Magdalene have to say about this?
A few days passed after turning in his paper. Mark was churning inside, waiting to be summoned. He was sure that what he had written would either cause a tide of concern for his lost soul to issue forth, or if he was considered to be indeed too lost, he would, at the very least, undergo a stern castigation, or possibly even an "Out Satan!" denunciation. Might he be expelled from school so close to graduation? The wait was excruciating. Then the day arrived. Father Van Horne entered 5th period Religion class, opened his briefcase and pulled out the stack of essays, now graded, and ready to be returned. He was not an imposing figure to say the least, despite the fact that he so much wanted to be feared. The students called him Father Fife behind his back because he had the same build, and somewhat the same squeaky voice, as Don Knott's Barney Fife on The Andy Griffith Show. As with all priests, he would be dressed all in black except for the white spot of collar under his bobbing Adam's apple, and, in his case, his white socks that you couldn't miss. He loved to pull his chair out and place it to the side of his desk. He would then place his foot up on the chair's seat, and lean forward with his forearm resting on his boney thigh. His pant leg would pull up revealing, between his glistening black shoes and the cuff of his black pants, an expanse of shockingly white sock, pencil-thin on his non-muscled calf. Once perched in this favorite pose, he would peruse the class menacingly, a baleful stare daring anyone to be anything other than totally attentive to his presence. This fateful day proved to be no different. There he stood, slowly eyeballing one row after another. Mark was convinced that when his eyes fell on him, he would be summoned forth, and marched to the Principal's office, where rumor had it that Monsignor Spires, when confronting a student guilty of a particularly heinous crime, would add a few more rings to his already bejeweled hand so that the impact of his back-handed slaps would be all the more memorable. Sitting next to Mark, and closest to the row of windows, was his friend Dan Cody, who unlike the rest of the class was not looking at Father Fife, but rather was daydreaming, looking out the window. Mark could feel the sweep of the gaze moving toward him, when suddenly it landed on Dan instead.
"Cody, what are doing," Father Fife barked.
Dan, startled back into the present, "Just looking out the window, Father."
"Well, how about I just throw you right out that window, how would you like that?"
Mark was relieved that the attention had shifted to Dan, and enjoyed this display of aggressive silliness that Father Fife was known for--not that Father Van Horne himself would have thought it was silly. He seemed always to be in deadly-ernest mode. Not only was it silly because the windows did not open in such a way that one could be properly defenestrated. (This was a new word that Mark had just learned-- meaning to be thrown out of a window, and learned in his French class of all places because it came from the French word for window, "fenetre.") But this was also comical if one envisioned the 120 lb. Father Fife trying to lift 190 lb. Dan Cody in a futile attempt to wrestle him out of the window.
Then strangely, the class proceeded normally. At the end of the period, Father Fife walked up and down the aisles dropping the graded essays on each student's desk. He did not even make eye contact with Mark as the heretical tract hit his desk with a simple "B-" in blue ink at the top. No comments were written in the margins or at the end of the paper, just a simple "B-". When later Mark related this story to his roommate Eddie in the dorm, his comment was predictably, "The douche bag probably didn't even read it." But Mark, at first a bit shocked, then terrifically relieved that he was not going to be subjected to any of the drama that could well have ensued, afterwards came to suspect that perhaps he had hit a nerve in Father Van Horne, and that maybe the priest was unable or unwilling to discuss these matters with him at that time. Years later he heard that Father Van Horne had left the priesthood and had gotten married. Mark smugly liked to think that he may have contributed to this, or at the very least felt that perhaps Barney was already wrestling with temptations back when Mark had written that paper, and maybe he was simply not in a good place to engage a student honestly regarding these issues. Instead, he opted for a simple gesture, "B-".
The priests at Watterson High were for the most part a bit strange. There was one odd duck named Father Robert O' Leary, who for some reason actually lived at the school instead of being attached to one of the parishes and housed at a parish rectory. He had a small apartment within the school building itself. The door to his lair, as it was sometimes referred to, was just off the landing of one of the stairs going to the second floor. Mark came to know the layout of the school quite well. He had volunteered to be the curtain puller for the Senior class theater production of Pride and Prejudice. Since there was plenty of time during the after-school rehearsals when he was not needed, as when the cast went through their lines and blocking, he and two other classmates who were also rarely needed as stagehands would sneak around the school to see what they could discover. They found a small doorway adjoined to the small balcony that overlooked the basketball gymnasium. The door was not locked, so in they went, and found themselves going through a series of tunnels that eventually allowed them to drop down into the cooking area of the cafeteria that was otherwise all locked up. In one of the oversized refrigerators they found a stash of beer that was labeled as belonging to Father O'Leary. They would be careful to only take one bottle so as not to risk him noticing the pilfering. Unlike Father Fife, who always wore a black suit jacket and slacks, Father O'Leary preferred wearing his priestly black cassock that was like a floor length dress with long sleeves. He was not keen on hygiene and had the most alarming white encrustations circling out in ten inch diameters from his underarms. He was bald, small-featured, and unfriendly, and had two nicknames. The male students called him "Penis Head," because of the obvious similarity the shape his neck and head had to that other region of the body, and the girls called him,"Smelly Bob," because of the obvious odor that emanated from his rarely washed cassock. He was especially disliked by the female students because of what he said one day in Girl's Religion class. Religion classes were always taught by priests, and were always segregated by sex, in case indelicate sexual topics needed to be addressed and the priest needed to hammer home one of St. Paul's precepts. However, one day Father O'Leary was far from delicate when he told them that he always knew when each female student was having her period. Why he absurdly thought he was capable of this was not as important as how utterly creeped-out this comment made the girls feel. Consequently, they felt no shame in referring to him as "Smelly Bob," which originally referred to the way he smelled to them, but after his comment in class that day, came to also mean that he might be pervertedly smelling them whenever he passed by.
Equally creepy was Father Arturo, who felt it necessary to pass along the following admonitions to the boys in his Religion class to help them avoid temptation and to thwart unnecessary arousal. First he told them that when mowing the lawn with a gas-powered lawnmower, it was wise to keep the mower at some arm's length from your body. You did not want all that vibration jiggling away at your waist line or who knows what might happen. Obviously Father Arturo knew, but "Good grief," Mark thought, "You have got to be kidding." The good Father then followed with a second admonishment about the dangers of riding on a city bus. This one was even harder for Mark to understand because he could not recall that there was any unusual amount of vibration in bus seats, but apparently Father Arturo must have had a wood-sprouting accident on a bus trip, and attributing it to the bus vibration probably was less problematic for him than questioning the purity of whatever it was that he may have been thinking about at the time. Lastly he suggested that when in a bathing suit at a beach or in a pool, one should exercise caution when leaving the water to make sure that no unseemly tumescence would be displayed to others, and if it took a few minutes to deflate, it was better to stay in the water for a while than to risk embarrassment to oneself or others. This admonition elicited another "Good grief."
February 27, 2016
Thanks, Fred Clem, for letting us know about a wonderful article about our classmate Margie Davis from the The Catholic Times, p. 7. As most of you know Margie is Sr. Marjorie and this details her journey. Congratulations, Margie, and we look forward to seeing you at our 50th and discussing this with you in person. Here is the link to the actual article. :
http://www.colsdioc.org/Portals/0/Departments/CTO/Documents/2016/February%2028%202016.pdf
Or here is the copy:
A call from God to a religious vocation may come at any time, and in what may seem to be an unlikely place. Sister Marjorie Davis, OP, said the moment she began to recognize her call came while watching a made-for-television movie.
The program which changed her life was "A Time for Miracles," an ABC Movie of the Week which was shown in 1980 and featured Kate Mulgrew as St. Elizabeth Seton, the first saint born in the United States. St. Elizabeth was a widowed mother of five who founded the Sisters of Charity at Emmitsburg, Maryland, in 1810 and spent the 10 remaining years of her life pioneering Catholic education in this country.
Sister Marjorie said she had not seriously thought about the religious life before watching the movie, although she was an involved parishioner at Westerville St. Paul Church. At the time, she was 32, was employed as a secretary, had been engaged at one point, and was active in the dating scene. "When I saw Mother Seton's story, something began to happen to me which I now recognize as a call from God," she said. "At first, I thought what I was feeling was a joke and it couldn't really be God speaking to me. But as I thought about it some more, I realized 'Oh my God! This is real!' and began feeling an excitement I couldn't have imagined."
Sister Marjorie, 67, grew up as the third child in a family of six who lived a short distance from Our Lady of Peace Church in north Columbus. After graduating from Columbus Bishop Watterson High School, she was a secretary for Chemical Abstracts Service for two years before going to Ohio Dominican College (now University). During some of her college summers, she was a waitress at Yellowstone and Glacier national parks.
After graduating from Ohio Dominican in 1972 with a degree in social work, she was employed at the former Jai Lai restaurant near The Ohio State University. The Jai Lai was the favorite eating place of OSU football coach Woody Hayes and his wife, Anne. "They were there all the time. I remember Anne would have pumpkin pie and Woody would have chocolate ice cream," she said.
Sister Marjorie also lived for a year in St. Paul, Minnesota, with friends she had made while working in the West. Moving back to Columbus, she did secretarial work for a law firm and a concrete company. An important point in her faith life came when she took part in a Christ Renews His Parish weekend at St. Paul Church in the late 1970s. "Through that weekend and other supportive, educational programs and lots of prayer, support of family and friends, and spiritual direction, I found myself trying to discern where God was calling me to serve," she said.
The realization that her call was to the religious life began a two-year period in which she worked with Sister Noreen Malone, OP, who at the time was with the diocesan vocations office, to determine which order of sisters might be best for her. She considered several congregations, but said "I kept coming back to the Dominicans," who had educated her at Our Lady of Peace, Watterson, and ODC.
Dominican "Sister Catherine Colby began talking with me, and we just clicked," she said. "I knew she was really listening to me. Father Jim Petry, who was at St. Paul's at the time, led the Christ Renews His Parish retreats and became my spiritual director. He gave me a lot of books which helped develop my faith, as I came to realize I was really thirsting for God and didn't want this to be just another fad."
Sister Marjorie entered the community of the Dominican Sisters of St. Mary of the Springs (now the Dominican Sisters of Peace) in 1982, making her first profession of vows on Aug. 11, 1985, and her final profession on the same day three years later. After taking her first vows, she was employed at Ohio Dominican's financial aid office for two years. From 1987 to 1990, she was involved in what she describes as her favorite ministry, working at The Dwelling Place in New York City, a transitional shelter for homeless women in Manhattan.
"I worked individually with the women living there, giving them money and medicine and helping them learn social skills so they could obtain housing and live on their own," she said. "Through that experience, I realized how I wanted to use my social work degree to help others." She has lived and worked in Columbus since returning from New York.
She obtained a master's degree in social work from OSU in 1992 and was a case manager and team leader for the Southeast Community Mental Health Center from 1991 to 1996 and again for a brief period in 2008. From 1996 to 2004, she was social services director for the Mohun Health Care Center. During much of that period at Mohun and through 2007, she also was part of the vocations ministry for her congregation.
"The Mohun center is unique because it's for retired priests and religious," she said. "More than at most places, you become their family, since the residents are unmarried and in many cases are the last surviving sibling of a family."
The year of 2008 was a memorable one for Sister Marjorie because, shortly after returning to work for Southeast, she was diagnosed with lung cancer, "even though I never smoked," she said. "Through a combination of chemotherapy, the care I received at the Zangmeister treatment center, a positive attitude, and, above all, prayer, I'm in remission now," she said.
"The experience has taught me to live each day fully, do the best I can, and know that if I die, I'm going to see God. It's a winwin situation, so I'm at peace with whatever happens." Sister Marjorie decided that when she returned to work in 2009 after her cancer treatment, she wanted to do something different.
Three days after considering a position with the Dominicans' Heartland Farm in Great Bend, Kansas, she was asked if she would consider becoming campus minister at ODU. She accepted that post and has been there ever since.
Since 2013, she also has been one of about a half-dozen members of her congregation across the nation who serve as core animators, a position which involves support for the vocations ministry in their geographic area. In these ministries and whatever she does in the future, Sister Marjorie said, "I want to be a witness of God's love; to be a productive role model of living the Gospel life, trying to be there for everyone, trying to bring about a more just world and to be as involved as I can with the world."
January 12, 2016
I love this! We have a lot of talented people in our class!

I did a review of Mark Schweickart's new book, The Hat Fluffers of Buckingham Palace. I would like our classmates to know about his book. the review is below. Thanks. Joe Gentilini
The Hat Fluffers of Buckingham Palace is an often funny, sometimes quite poignant story about growing up in Ohio in the 50s and 60s. I also grew up in that same milieu and time period, so my response was that his journey was one that some of us would have liked to have taken, but didn't have a guts to do so. Speaking as a gay man, this story struck me as being almost like a non-gay 'coming out' story, with its tales of dealing with his Catholicism, his clumsy fumbling through his sexual awakening, his dropping out of college, disappointing his parents, and hitchhiking across the country to San Francisco to try to discover who he was. His portrayal of small boy concerns--dirt-clod fights, grade-school football, boy scout camp, and the terrors of the confessional -- are handled with humor and occasional pathos. Similarly portrayed were the awkward high-school years which included bouts of depression, a depression that tends to haunt the entire book, despite all of the humor riding on the surface. I particularly identified with his description of being an "altar boy" Catholic. He takes us behind the scenes to encounter priests who could sometimes be angry, explosive, almost dictatorial, but one might say deservedly so, given Mark's comically absurd performance while trying to assist at the altar. I especially liked his description of his emerging religious doubts that ultimately brought him to embrace atheism, because it was done in a way that truly made me laugh. His stories about his belief, or unbelief, in the transubstantiation of bread and wine at Mass was hilarious and did not offend me at all. I suspect his doubts were shared by many Catholics at some time in their religious history, but perhaps not with Mark's particularly wacky take on these issues. It is obvious that he means no disrespect to others who do believe. Mark wasn't interested in going to college and so almost signed up for the military during the Vietnam War. But having second thoughts, he didn't show up for his induction, and instead eventually hitchhiked to California, meeting some amusingly odd characters along the way, as he continued his search for an interior space, as he says, quoting Bob Dylan, "far from the twisted reach of crazy sorrow." Upon finishing the book, I only wished he had continued writing, filling us in on the "rest of the story."



This message has been sent to you from gio0848@columbus.rr.com. You cannot reply directly. Click here if you wish to start a new email to gio0848@columbus.rr.com.


To change or discontinue these email notifications manage your Notify Me settings.
January 12, 2016

I wanted to let fellow classmates know that Joe Gentilini has written a book called "Hounded By God. A Gay Man's Journey to Self-Acceptance, Love, and Relationship" and is available on Amazon as an ebook. Please post this somewhere where people will notice it. Thanks. Here is the review I posted about this on the Amazon site: Being a heterosexual atheist, I am certainly not the target audience for this profoundly thoughtful meditation on the tribulations of of a young man growing up, and remaining, a gay Catholic, but I found the book to be very moving and would recommend it to anyone, and most emphatically to any person confused by their sexuality. What is particularly interesting is that this articulation of the roller-coaster ride the author went through before finding self-acceptance, and the loving acceptance of a life-long partner, is presented in a very unconventional way. Instead of it being a reminiscence from an older man looking back on his journey through life, it is organized as a series of journal entries. It seems the author had been a prolific journal writer from a very young age, so the book is made up of dated entries presented just as they were written years ago. This gives the struggle an immediacy that would be hard to re-create from the vantage point of someone just looking back years later. Even though the reader becomes aware early on know that things will eventually work out, the young journal writer did not know this at the time he was writing his more painful entries, so our heart goes out to him as we empathize with his confusion. I personally was less interested in the spiritual side of the book, but for anyone who is spiritually inclined, accompanying the author as he is "Hounded by God" will no doubt be a journey absorbing and inspiring in its trajectory and conclusions.



This message has been sent to you from sparto@ca.rr.com. You cannot reply directly. Click here if you wish to start a new email to sparto@ca.rr.com.
September 2015
Many of you have enjoyed photos on our website taken by our classmate, Jim Hamilton. Jim lives in Colorado. He recently sent these photos and a story about bears in his backyard. 😉
About 6 weeks ago I noticed some bear tracks in our backyard. This is not too unusual as there are bears, deer, bobcats, foxes, raccoons, coyotes and even the occasional mountain lion that live in the area. However, there has been a lady in the neighborhood who has been illegally feeding the bears for the past several years, even though she had been cited many times for doing this.

To see how frequently the animals were prowling through our yard I set out a camouflaged "Critter Cam" on a tree in the backyard which records color photos in the day and infra-red ones in the dark. It turned out this was a common occurrence. Attached are two such photos. The daytime one is of a sow (her cub is behind her and can barely be seen hidden by her backside) and the night shot is of a large male bear, looking spooky in the infra-red image. The Critter Cam caught other bears as well as a few other critters but these two were my favorites.

The lady has since been arrested and arraigned in court, results not yet released to the public.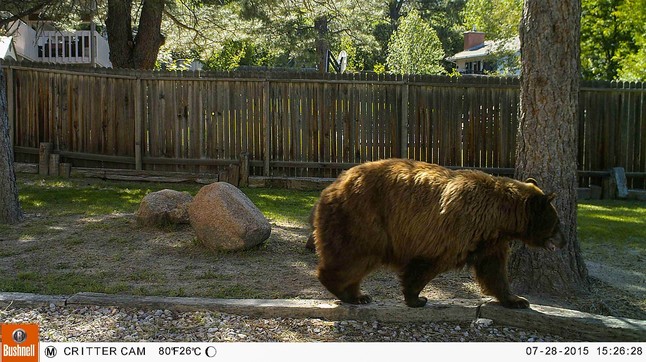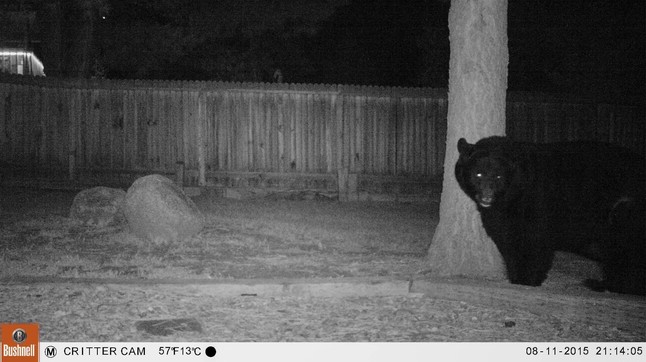 To comment go to class profiles and select James Hamilton. Thanks for sharing!
A number of our classmates have a talent, a hobby, a collection, a website or blog, something that many of us would enjoying knowing about. Maybe take a look or a listen. This page is a way that we can share with each other. Please send an email to: Watterson1966@aol.com and let us know if you have something to share.
Fall 2014
Sheila McCarthy Gardner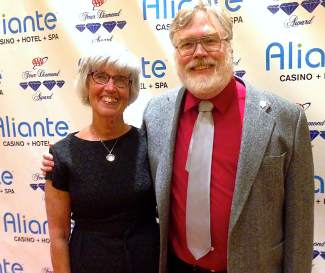 Gardner named outstanding journalist by state association
recordcourier.comSep 24, 2014
Former Gardnerville Record-Courier News Editor Sheila Gardner was named outstanding Nevada journalist for community and intermediate newspapers.
The award was delivered at the Nevada Press Annual Contest banquet held at the Aliante Hotel in North Las Vegas on Saturday. For the second year in a row, The R-C was named the outstanding intermediate newspaper.
Gardner retired after working for The R-C, the Nevada Appeal and the Reno Gazette Journal in a career that spanned decades.
"She is, syllable for syllable, one of the best writers in the state," said Editor Kurt Hildebrand. "Her news sense is tack sharp, and her horse sense is off the chart."
The Record-Courier was also recognized for its online work, with The R-C Running Commentary recognized for best online writing for what the judges called "lively and informative" work. The R-C's web site was honored with first place for it's updates and interaction with readers, according to judges.
Editor Kurt Hildebrand received a first place for best multimedia story for his video coverage of the 2013 Bison fire.
Staff Writer Caryn Haller received a third place award in the feature category for her story about mother and daughter teachers on the first day of school.
R-C photographer Jim Grant won several awards for The R-C, including second places for best news photo and best portrait.
The staff of The Record-Courier won second place for best overall design and best special advertising section for the Carson Valley Almanac. The Carson Valley Almanac also won third place for best special section. The R-C won third place for advertising general excellence.
The Record-Courier competes against small daily and large weekly newspapers across the state. The largest newspaper in the category, the Nevada Appeal in Carson City, took second place in the general excellence category.
Hildebrand was elected past president of the press association on Saturday.
Jim Hamilton
You can add to the Class Showcase Page my photography website mountainmemories.zenfolio.com for anyone who might be interested. I have a # of galleries open to the public on that site including Colorado Landscapes, Clintonville Ravines, Hayden Falls Park, and a couple on Chicago. Periodically I add new galleries and more images to existing galleries. Also there are some other pages on the website such as "Featured Foto with Facts" to which those who are into photography may be able to relate, and some on my photographic roots. I know that you and a few of our other classmates have visited the website and I appreciate that very much!
Thanks,
Jim Hamilton
Larry Foster
Larry Foster has been generous enough to send us some samples of his art. How wonderful that he has been able to explore his talent as our hectic younger years fade and we have a little more time for ourselves. Enjoy!
Here are a few samples of my art work (and of course they are going to be the better ones).
Back in 7th-9th grade I did drawing on my own. There was not a lot of support or encouragement and then high school, girls, army, girls, college, more girls ( But they were women by then.), work, marriage, children, etc. kept coming along and I kept putting the art activity off. After some lung surgery in Feb 06 I had recovery time and I started pencil sketching as I was bored. Then I started taking classes in Aug 2007 at a studio in the neighborhood. So now I am enjoying some time for myself. It is real laid back. A session consist of 8 classes and if you miss a week you can make it up. So sometime it takes me 12 weeks to get in my 8 classes. I have averaged 2-3 sessions per year. I have seen improvement over the recent years.
The chickadee is my first painting ( Aug 07) – a water color that took me 7 hours to do. I am slow, yes. There is probably not a stroke longer than 1//4 inch on this. That is because I was so afraid of making a mistake.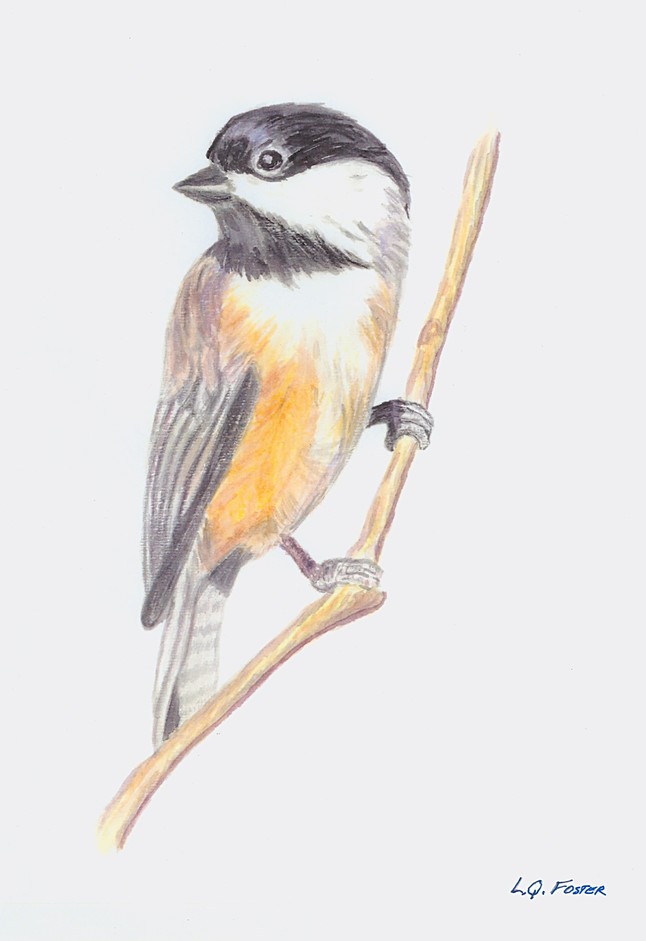 The winter pastel landscape (Oct 08) was an interesting challenge to do – working with chalk.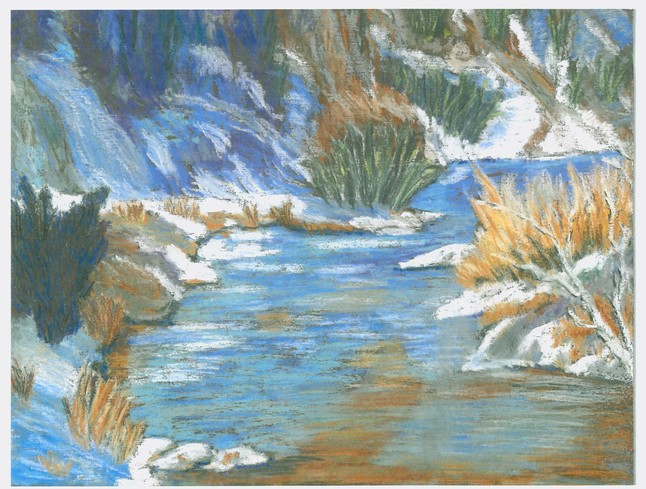 The peacock (Mar 11) is also a water color but it has been highlighted/defined with pen and ink. It is based on a photo I took at a winery in San Cupertino, CA. When the winery was started up in the early 1900s the owner brought some peacocks in and now they roam wild in the area.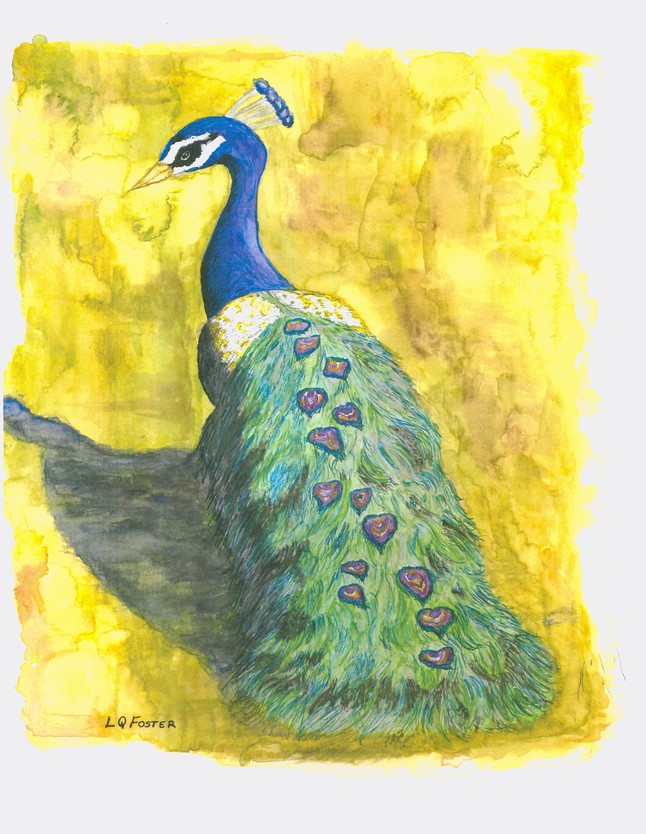 The last one is the sunflowers in the mason jar (Jun 11) that you saw on facebook. The purpose of that lesson was to work with how light is reflected in glass and water. The sunflowers were not the main focus of the lesson.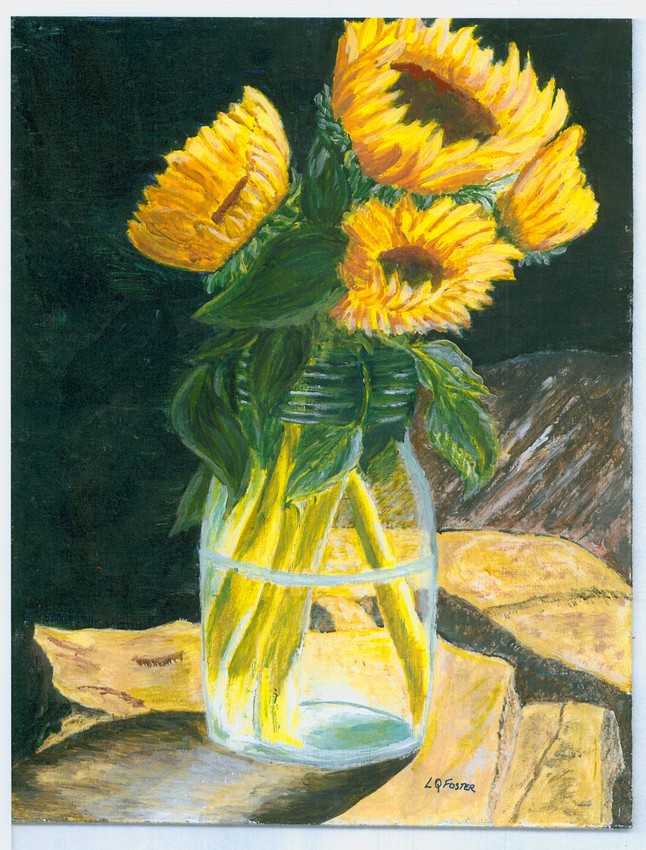 All except the peacock were copied from images in an art magazine. I did not do the original composition of the parts of the images. I think that the way those artists composed the subject matter is really good. As my own technique gets better I am now starting to see composition and am looking more at that. Also the colors that were used for the sunflowers and winter scene are striking. I started to work with that in the peacock.
Feel free to share these for the high school reunion. Thank you for your kind words of praise and your interest in it. I am flattered. I am currently working on copying a Claude Monet picture from his series of paintings called "Haystacks." I like not just the lighting but also how the looseness of the strokes can still make structure in the images. I will send that on to you when I complete it – which should be before the reunion. It better be! I have one furniture refinishing project that I am also working on but that should be winding down over the next 2-3 weeks.
Take care – see you at the reunion on Saturday night. I will not make it in for the football game on Friday.
Larry
SaveSave
SaveSaveSaveSaveSaveSaveSaveSaveSaveSaveSaveSave
SaveSave