Bishop Watterson

High School




Class Of 1966 Columbus, Ohio
Welcome to the Watterson 1966 Website!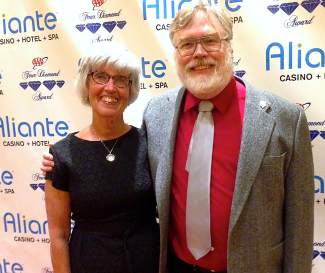 Sheila McCarthy Gardner
Gardner named outstanding journalist by state association
recordcourier.comSep 24, 2014
Former Gardnerville Record-Courier News Editor Sheila Gardner was named outstanding Nevada journalist for community and intermediate newspapers.
The award was delivered at the Nevada Press Annual Contest banquet held at the Aliante Hotel in North Las Vegas on Saturday. For the second year in a row, The R-C was named the outstanding intermediate newspaper.
Gardner retired after working for The R-C, the Nevada Appeal and the Reno Gazette Journal in a career that spanned decades.
"She is, syllable for syllable, one of the best writers in the state," said Editor Kurt Hildebrand. "Her news sense is tack sharp, and her horse sense is off the chart."
The Record-Courier was also recognized for its online work, with The R-C Running Commentary recognized for best online writing for what the judges called "lively and informative" work. The R-C's web site was honored with first place for it's updates and interaction with readers, according to judges.
Editor Kurt Hildebrand received a first place for best multimedia story for his video coverage of the 2013 Bison fire.
Staff Writer Caryn Haller received a third place award in the feature category for her story about mother and daughter teachers on the first day of school.
R-C photographer Jim Grant won several awards for The R-C, including second places for best news photo and best portrait.
The staff of The Record-Courier won second place for best overall design and best special advertising section for the Carson Valley Almanac. The Carson Valley Almanac also won third place for best special section. The R-C won third place for advertising general excellence.
The Record-Courier competes against small daily and large weekly newspapers across the state. The largest newspaper in the category, the Nevada Appeal in Carson City, took second place in the general excellence category.
Hildebrand was elected past president of the press association on Saturday.
We are looking for interesting content to keep our website fresh.
Please feel free to submit photos, art, articles and other items
that you think our classmates will find interesting.
ANNOUNCEMENTS
•

Please click on the Prayer Requests tab on the left. Your prayers are powerful! Thank you for adding our Watterson community to your prayers.


•

We have posted 45th Reunion photos. Go to the second tab on the left. You will then find a variety of albums. If you would like you can upload photos to your own album or scan in your photos and send to us at watterson1966@aol.com and we will do it for you.

•

We also have a Facebook Page!

After you have joined this site check out our

Bishop Watterson Class of 1966 Facebook Group