Watterson

High School




Class of 1966
We are having an informal class get-together on Saturday evening August 26, 2017. It will be pizza and salad, beer, wine and soft drinks, maybe a few extras thrown
It will be in the "Library" of the building Janie lives in at The Alexander condo building at 500 S. Parkview Ave at Main in Bexley. This is only a couple minutes off I-70 at Bexley Main St exit. For those of you who worked on the reunion you can attest it is a good sized room with a pool table, piano, TV with lots of comfortable seating. We won't have to fight a crowd, pay high prices or tip. ;) We should have enough in our fund to pay for the party. At most we might have to chip in a couple bucks.
Joe McCarthy was unable to make our 50th and will be in Columbus on this weekend so we hope that many of you can reserve this date. We are calling this our "55th Grade School Reunion". Sounds like as good an occasion for a party as any. ;) You can invite some you went to grade school with if you like even if they didn't go to Watterson. There will be a $10 charge for those not in our class.
Please send an email to Watterson1966@aol.com to RSVP as soon as possible so we can make our plans.
Welcome to the Watterson 1966 Website
Sunset Pike's Peak elevation 14,115 feet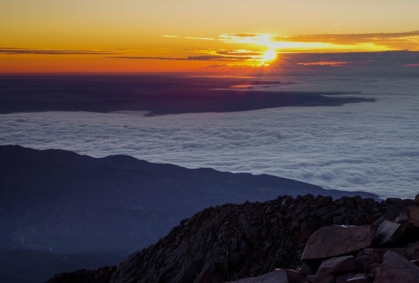 Photo by Jim Hamilton
Have you looked at our Message Forum lately? We have over 1400 entries since our 50th Reunion! Take a look; join in the conversation. 6th tab down on the left.
Please feel free to submit photos, art, articles and other items
that you think our classmates will find interesting.